Why an iceberg? A roller mill section can be viewed in a similar way to an iceberg! The iceberg helps illustrate the hidden costs of your milling section. The visible area represents the initial equipment purchase and routine service and maintenance.
Hidden beneath is the ever increasing & uncontrollable energy costs. As you'll note, 90% of overall (machine) cost of ownership is in electricity consumption. Of that, 50% or more of the kWh can be removed from the equation using our KERS System©, increasing net profit margins by 10-20%. In a flour mill, the roller mill section accounts for approximately 65% of the electric bill. ; By reducing energy usage by 50%, it can equal a reduction of 10-15% of labour costs.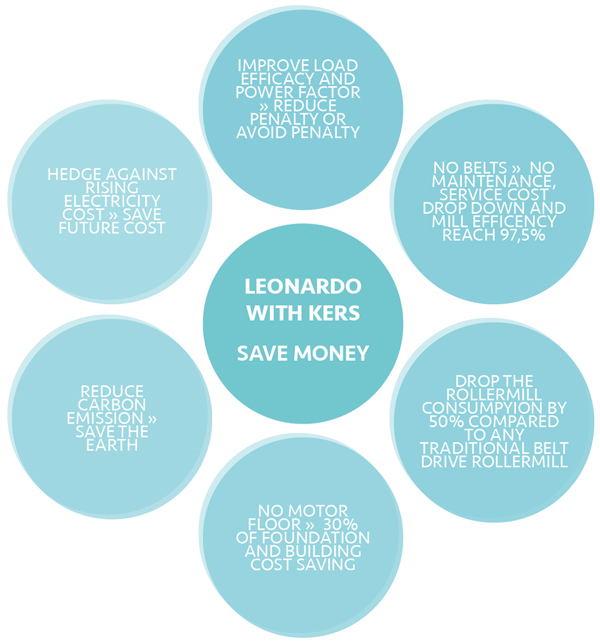 Throughout North America, you'll find utility energy efficiency grants that offer 20-40% of project cost.
Why?
The reason and drive behind the grants is to offset the extreme cost to build new generation plants. The millions of dollars available in grants offer a great opportunity to increase your competitive edge.
Using our Leonardo roller mill with KERS System© you'll gain a new competitive edge alongside reduced commercial risk, increase of product value and greater company image, all because you're efficient. Once efficiency takes hold in one place, it will become contagious throughout the company.
Strategy means:
"The art of hedging energy reduction in order to gain a competitive edge over the competition".
The following will occurs when you take Leonardo rollermill with KERS System ©:
Reduced parts cost: new sales opportunities;
Torque Motor with Brushless Technology: high efficiency and no maintenance cost;
Hedge the ever-rising cost of energy or perhaps unforeseen production;
New stream of revenue not a drain of Company Funds;
Increase Company's image as a "Green Status" product;
Increase product value, higher margins;
With the savings you can purchase other needed equipment and services.
To find the appropriate Rebate/Grant program go to your local utility website or visit www.dsireusa.org for National incentive map.

Antonio Dalla Pria
dallapria@omasindustries.com
Regional Sales Manager USA&Canada